Birthday Cards by Black Designers: Show Your Love and Support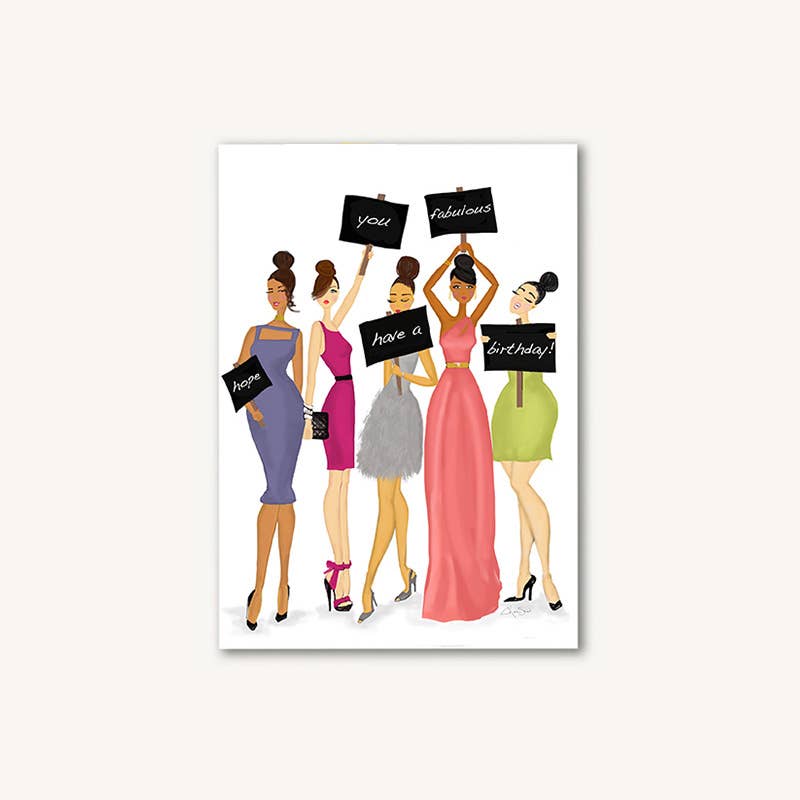 Celebrate Love with Unique and Thoughtful Cards
Looking for the perfect way to express your love and admiration for your loved ones? Look no further! We have found the perfect solution for you – unique and thoughtful cards that are sure to make your loved ones feel special and appreciated.
As African Americans, we know the importance of celebrating love and showing our loved ones just how much they mean to us. That's why we are thrilled to introduce a collection of cards that are specifically designed for us, featuring beautiful artwork and heartfelt messages that truly reflect our culture and experiences.
These cards are not your average Hallmark greetings. They are crafted with love and attention to detail, making them stand out from the rest. Each card is a piece of art in itself, featuring stunning illustrations that capture the essence of African American life and heritage. From vibrant colors to intricate patterns, every design tells a story and evokes a sense of pride and joy.
But what truly sets these cards apart is the heartfelt messages they carry. These words are carefully chosen to convey love, appreciation, and encouragement in a way that resonates deeply with our community. They speak to our shared experiences, our triumphs, and our hopes for the future. Whether you're celebrating a birthday, anniversary, or simply want to let someone know you're thinking of them, these cards are the perfect way to show your love and support.
Cardciety was fortunate enough to get our hands on a few cards from black designers.
D. Johnson & Co Greeting Cards
Introducing D. Johnson's Handmade Greeting Cards: A Perfect Blend of Art and Emotion
Finding the right card to express your admiration and love for someone special can be a daunting task. But worry no more, because D. Johnson's handmade greeting cards are here to save the day! With her artistic background and keen eye for design, D. Johnson has created a collection of cards that are truly masterpieces.
For African Americans seeking unique cards that reflect their culture and show genuine admiration for their loved ones, D. Johnson's creations are simply perfect. Whether it's a card for your mom, sending wonderful birthday wishes to a friend, or a card for dad from the kids, you can trust that her cards will tug at the heartstrings and create memorable moments.
What sets D. Johnson's cards apart is the attention to detail and the heartfelt touch she puts into each creation. These cards are not your ordinary mass-produced greetings. They are handmade with love and care, ensuring that every card is a one-of-a-kind treasure.
One glance at D. Johnson's cards, and you'll be captivated by their cuteness and sweetness. The use of gold foil adds a touch of elegance and sophistication, making these cards truly stand out.
But here's the best part – as a Florida A&M University graduate, with a background in art and design, D. Johnson creates handmade greeting cards that are masterpieces. Whether it's a card for mom, happy birthday cards sending wonderful birthday wishes, or a card for dad from the kids, she really has a knack for creating heartfelt memories on paper. Her cards are cute and sweet and include gold foil and unique pop-up features. Even better, her cards are works of art and can be framed for display. They even include beautiful messaging inside the cards, which is rare since most handmade cards are left blank.
It's wonderful to see a company like Beyoutifully Brown™ celebrating and embracing diversity in their products.
One thing that stands out about Beyoutifully Brown™ cards is their unique and vibrant designs. Each card is carefully crafted with beautiful illustrations and colors that truly capture the essence of the message being conveyed. Whether it's a birthday card, a thank you card, or a card just to say "I love you," you can be sure that the recipient will feel special and appreciated.
As an African American, it is refreshing to see cards that represent and celebrate me and my loved ones. Beyoutifully Brown™ understands the significance of representation and inclusion, and it is evident in their products. These cards are not only for African Americans, but for anyone who appreciates diversity and wants to honor the relationships in their lives.
Another aspect that sets Beyoutifully Brown™ apart is their commitment to quality. The cards are made with high-quality materials, ensuring that they not only look great but also feel great. You can feel the difference when you hold a Beyoutifully Brown™ card in your hands.
We understand the importance of supporting and uplifting African American artists and creators, which is why we are proud to feature their work in our collection. By purchasing these cards, not only are you showing love and appreciation to your loved ones, but you are also supporting talented individuals within our community.
So why settle for generic cards when you can have something truly special and meaningful? These thoughtful cards are a beautiful way to celebrate love, honor our culture, and make our loved ones feel cherished. Whether it's a birthday, anniversary, or just a simple gesture to let someone know you're thinking of them, these cards are sure to bring a smile to their face and warmth to their heart.
At Cardciety, we believe that every occasion deserves a unique and heartfelt card. That's why we have curated a selection of cards that are specifically designed for African Americans. We invite you to explore our collection and find the perfect card to show your love and admiration for your loved ones. Let them know just how special they are with a thoughtful card that is as unique as they are.
So, if you are interested in getting your hands on either of these two designers, check out Cardciety's site, where we have been privledged to have a few for sale.